After last month's coup d'etat, there is no real timetable for Egypt to elect a new president. What few indications we've gotten from the junta and its allies are that such a vote would come in late 2014 at the soonest.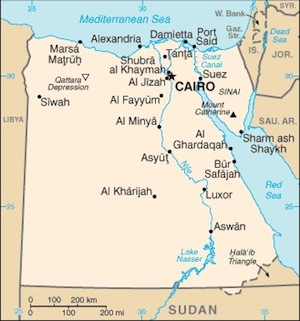 But the "liberal" factions that were quick to praise the coup are increasingly making it known that they welcome the idea of a military leader taking the office, and the next election, assuming it happens at all, seems likely to be dominated by the current military brass and former Mubarak-era security officials.
Assuming the military can get together a "consensus" candidate for themselves, it could rapidly devolve into a single candidate race, as the same "liberals" have been demanding a constitutional ban on the popular Islamist parties that dominated the now ousted civilian government, and have shown no ability, despite being bankrolled by the US government, to successfully field candidates of their own.
General Abdelfatah El-Sisi would be the odd-on favorite for that spot if he wants it, but he has preferred so far to rule out of the Defense Ministry, quickly shuffling Adly Mansour, a random judge, into the "interim" top spot, with the understanding that the military is the one actually calling the shots.
If Sisi decides to keep that strategy in place, former Mubarak secret police chief Murad Mowafy is seen as a likely alternative, with reports that pro-junta businessmen have been pushing him to run. Mowafy's infamy would've been a huge obstacle to political aspirations during Egypt's recent votes, but with the popular civilian candidates all disappeared into military custody and the well-funded "pro-democracy" groups left mostly the ones on board with military rule, that obstacle is likely gone.
Last 5 posts by Jason Ditz