Pro-junta newspaper El-Watan is reporting that Egypt's military has uncovered a plot to assassinate coup leader Gen. Abdelfattah El-Sisi, with the attack said to be planned in the Sinai Peninsula by an Islamist faction.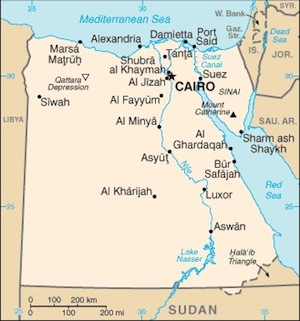 According to the report, the attackers included members of Hamas, and has a stockpile of smuggled Libyan weapons, and intended to assassinate Sisi and other junta leaders on the first day of Eid al-Fitr, later this week.
The other targets were said to be Interior Minister Mohamed Ibrahim, behind the recent massacres of anti-coup protesters, and Mohamed ElBaradei, the pro-Western former IAEA head who has come out in favor of the junta and was given the position of Vice President in charge of international diplomacy.
The Egyptian military began a massive crackdown in Sinai the same day as the coup which ousted the elected Morsi government, and has accused Hamas of plotting to support President Morsi.
Morsi and most other top officials have been imprisoned by the military since the coup, and reportedly US officials have visited with some of his top jailed aides trying to convince them to accept military rule. The US has openly endorsed the coup, though owing to US law banning support for coups they have avoided using that word, rather insisting that the military takeover amounts to "democracy."