Egypt has become something of an information black hole as far as the Obama Administration is concerned. $1.5 billion in military aid goes there annually, but what happens there is never officially recognized, and by design.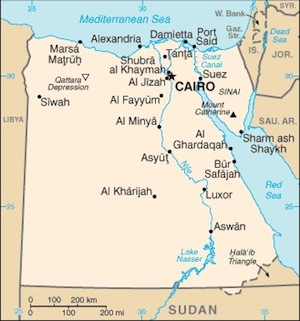 So when Egyptian police killed over 100 civilian protesters on the streets of Cairo and wounded thousands of others in the latest post-coup massacre, it is hardly surprising that the White House took a firm position of "no comment" on the matter.
After all, this is the same White House which is explicitly arguing that since the law doesn't require them to notice when a military coup takes place in an allied nation, they don't intend to ever do so. Because the coup would mean US aid would have to be suspended, and the administration doesn't want to do that, so its easier to just close their eyes.
Several in the Senate expressing "concern" about the killings, and Secretary of Defense Chuck Hagel reportedly called Army chief Gen. Abdul-Fattah el-Sisi, the de facto junta ruler, urging "restraint."
But while Sen. Dick Durbin (D – IL) said that the killings were "unacceptable," he also praised the long-standing US relationship with Egypt's military, suggesting that the determination to keep the issue of massacres from being a serious problem will continue to have momentum.