A pair of suicide motorcycle attackers have hit a Pakistani Shi'ite mosque in Parachinar, targeting worshipers as well as people in the marketplace around the area. At least 57 people were killed, and many more could die from severe injuries.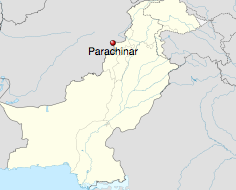 The bombings appeared to be coordinated, and were carried out within less than a minute of one another. The powerful explosions damaged 15 nearby shops, mostly preparing to sell food at sunset during Ramadan. The attack occurred just before sunset.
So far there has been no claim of responsibility but several militant factions in Pakistan, notably the Lashkar-e Jhangvi (LeJ) target Shi'ites almost exclusively as part of ongoing violence against the nation's religious minorities.
Parachinar lies just on the border between Afghanistan and Pakistan, and in the restive Kurram tribal agency. The proximity to Afghanistan means a cross-border attack cannot be ruled out, but with Shi'ites already a target in Pakistan simply for being Shi'ites, this is by no means certain.
Last 5 posts by Jason Ditz