Senators Lindsey Graham (R – SC) and Chuck Schumer (D – NY) are calling on the Obama Administration to "take action" and pressure the Group of 20 to relocate its September summit, currently scheduled to take place in St. Petersburg, to "punish" Russia.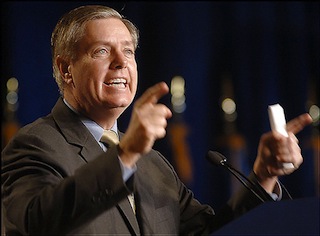 The Senators are angry at Russia because whistleblower Edward Snowden is trapped in a Moscow airport, and Russia has refused to capture him and hand him over to US officials because of his pending asylum bids.
Schumer insisted that it was time to act against Russia's "deplorable behavior." Graham had also pressed the US to boycott the Winter Olympics in Sochi because of their desire to see Snowden captured.
The US Olympic Committee has rejected the boycott call, saying Olympic boycotts have traditionally not worked, and that they will not prevent athletes from competing in Sochi.
Last 5 posts by Jason Ditz