Swirling reports that Secretary of State John Kerry was close to securing a new round of peace talks between Israelis and Palestinians have proven another mirage as both sides have rejected the plan as currently composed.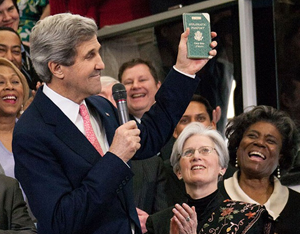 Prime Minister Benjamin Netanyahu's office was quick to dispel rumors of support for talks along the Arab Peace Initiative plan, the basis for Kerry's efforts. This denial was emphasized when others threatened to withdraw from the Israeli government if talks even took place.
The Palestinians were initially reported to be viewing Kerry's proposal favorably as well, however they too had rejected the plan by this afternoon, complaining about the lack of settlement freeze and saying they didn't want to be rushed into a plan.
That leaves the situation essentially as it has been for years, with each side refusing to participate in talks but wanting to spin the lack of talks as entirely the other side's fault.
Last 5 posts by Jason Ditz