Though there has been no public confirmation to that effect, reports are that Secretary of State John Kerry's proposal for peace talks between Israel and the Palestinian Authority will call for a partial freeze of Israeli settlements and the release of 103 Palestinian prisoners.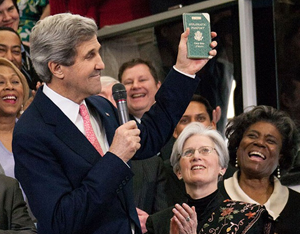 The partial freeze will only cover areas outside of the existing settlement blocs, and won't prevent them from being expanded. That's likely to be controversial, with parts of Israel's government ruling out any freeze of any sort, and Palestinian negotiators believing it will be hard to make any deals if the borders keep changing.
The aspects of the deal were reported in London daily al-Hayat, which also reports that the effort seeks 6-9 months of peace talks, with billions of dollars in economic development in the Palestinian territories being a major incentive for the PA's involvement.
The economic incentives appear to be the same ones that Kerry announced in May, and they will seek to allow Palestinian construction in Area C of the West Bank, despite the area being under direct Israeli military control.