Mohammed ElBaradei was seen as the obvious choice for Egypt's interim prime minister as both an outspoken supporter of last week's military coup and someone Western nations could embrace as a figurehead for the new junta. The announcement of his appointment was premature however, and has been scrapped.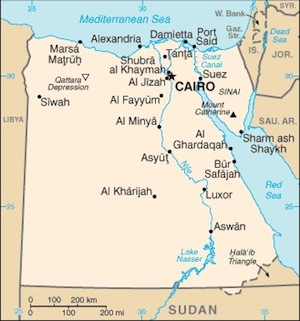 ElBaradei faced major opposition from the al-Nour Party, a Salafist faction which was second place in previous parliamentary elections (behind the ousted Freedom and Justice Party) and retains a lot of influence.
With the junta already facing considerable resistance from the FJP, the risk of alienating al-Nour may have been too big to take, especially for an interim position that holds virtually no real power. Instead they have decided to compromise on the relatively unknown Ziad Bahaaeddin. Bahaaeddin confirmed he was offered the position, but insisted he hadn't decided to accept yet.
The junta has sought to appoint advocates of military rule to the positions in the interim cabinet, leaving them a free hand to continue running the country out of the Defense Ministry's office.
Keeping the international community quiet about the coup is going to continue to be a challenge though, and it's going to necessitate keeping the various pro-junta factions placated enough to remain on board. That means a lot of small political parties that had no real electoral chances, but who have some international support will have influence with the military leadership going forward.
Last 5 posts by Jason Ditz