A US photojournalist was stabbed to death today in the ancient port city of Alexandria, as demonstrations across Egypt turned violent and officials expressed fear that the situation was spiraling out of control.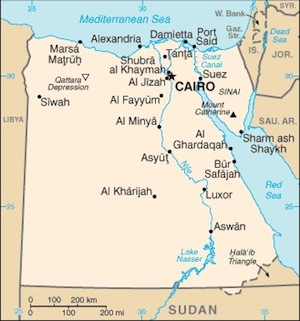 The US embassy has evacuated some non-essential staff, and the US State Department is warning against any but the most essential travel to Egypt, as the protests are expected to grow throughout the weekend.
The US Marines deployed in southern Europe have also been place on alert in anticipation of the need to move in to protect the embassy, and three warships full of US Marines are also deployed in the Red Sea as a "precaution."
Though the US isn't directly involved in the fighting on either side, they could potentially face hostilities from either as well, with the opposition seeing them as too cozy with the Morsi government and the pro-Morsi forces noting that the US openly backed the opposition during the last election and is no way near as supportive of Morsi as they were of Hosni Mubarak.