Gunmen loyal to the Tehreek-e Taliban Pakistan (TTP) attacked a base camp full of mountain-climbing tourists in Pakistan's far northeast overnight, killed 11 people. By different accounts either nine or ten were foreign tourists, with either one or two locals.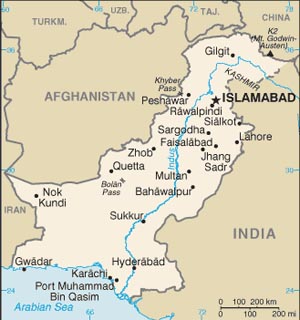 The TTP issued a statement confirming its involvement in the attack, which reportedly involved 15 attackers wearing stolen paramilitary force uniforms. They said the attack was "revenge" for the US drone strike earlier this year that killed Wali-ur Rehman, a top TTP figure.
Yet the victims overwhelmingly appear not to have actually been Americans. The most recent accounts say that the victims were five Ukrainians, three Chinese and one Russian, though US officials suggested the tenth one of them might have had a US passport.
The attacks occurred in Gilgit-Baltistan, a part of the Pakistani-held portion of the former Princely State of Jammu and Kashmir. The area enjoys comparative autonomy and rarely gets caught up with the Taliban fighting elsewhere in the country. The principle source of tension in Gilgit-Baltistan, apart from an ongoing secessionist movement, is with neighboring province Azad Jammu and Kashmir, with the later being predominantly Sunni and the Gilgit-Balistan residents predominantly Shi'ite.