Israel's hawkish leadership suffered a major blow this weekend with the announcement of Hassan Rohani's victory in Iran's presidential elections, setting the stage for a diplomacy-minded reformer to replace Mahmoud Ahmadinejad and throwing a wrench into all those war plans they had.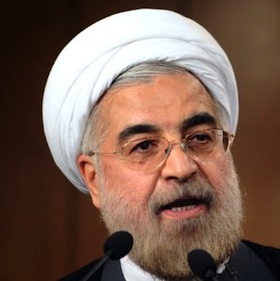 Prime Minister Benjamin Netanyahu was quick to lash Rohani's victory, and issued a public warning to the international community not to be "tempted" into participating in new diplomacy with the incoming government, but to stick to the policy of ever-increasing sanctions and threats of war that kept Israel placated for the past few years.
Israel may (and undoubtedly will) rail against Rohani as some sort of trick designed to ruin their perfectly good plans for a full-scale war against the entire region's Shi'ites, but the truth is that sucking the world into a disastrous war just got a whole lot harder, and selling the Western public on the need to attack a diplomacy-minded Iran will be an uphill battle.
The US seems eager to keep the status quo in place too, issuing a statement saying Rohani had a chance to improve relations, but only if he gave in to myriad demands, including publicly admitting to a nuclear weapons program that by America's own intelligence estimates doesn't even exist.
Last 5 posts by Jason Ditz