Turkish officials appear to be having trouble getting on the same page as massive protests continue across the nation. Prime Minister Recep Tayyip Erdogan has presented the protests as tantamount to terrorism, and condemned everybody, including Twitter, for criticizing him.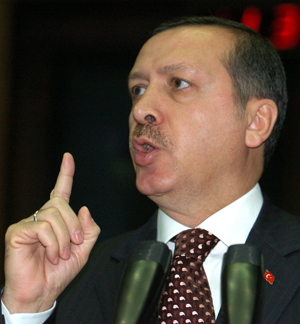 Deputy Prime Minister Bulent Arinc seemed to be trying to calm the situation down a bit today, when he insisted that the demonstrators were "legitimate" and apologizing for the large number of them beaten up by police.
Arinc almost immediately muddied this apology by adding "I don't think we owe an apology to those who have caused damage in the streets and tried to prevent people's freedom."
Erdogan is continuing to rail on against the protesters as "extremists" and "looters," Arinc doesn't seem to be able to keep his story straight within a single paragraph, and President Abdullah Gül, who has relatively limited power, reiterated his belief in the rights of protesters.
All of this double-talk and these mixed messages have convinced many that the comments aren't sincere at all, and many demonstrators appear to be all the more determined to see Erdogan resign.
Last 5 posts by Jason Ditz