Pakistan's vote count is more or less completed now, with a handful of seats yet to be decided and the ethnic and gender set-asides also yet to be revealed. Still, it underscores PML-N leader Nawaz Sharif's decisive victory, and with 123 seats already affirmed for his party, it is clear he will either be able to form a government outright, or will build a coalition with just a handful of independent allies.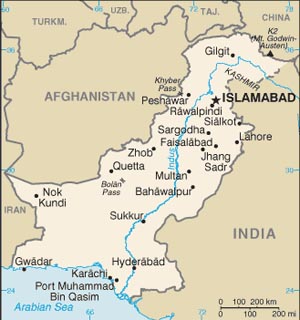 Sharif's win is being accepted by opponents now, with the incoming leader meeting Pakistani Tehreek-e Insaf (PTI) leader Imran Khan today in the hospital to settle their differences. According to Sharif, the PTI will accept his victory, and he will not contest their provincial win in the Khyber-Pakhtunkwah (KPK) Province, where they will for the first time have direct control.
As for other major and semi-major parties, the outgoing governing party, the Pakistan People's Party (PPP) is decisively defeated and rudderless to the point that analysts are wondering if they will survive in the opposition. The MQM, a long-standing power-broker party in Karachi, has lost some of its seats, while the Awami National Party (ANP), the Pashtun allies of the PPP, lost virtually every seat they had, heading for the role of trivial opposition figure.
Sharif will be heading for his third government, and his promises of reform will be aided greatly by the significance of his mandate. He has also promised to press the US for the end to drone strikes, something US officials have repeatedly ruled out.
Last 5 posts by Jason Ditz