Turkish officials have announced nine arrests so far in the wake of Saturday's bombing attacks on Reyhanli, and despite being to quick to blame Syria for the strike, Deputy Prime Minister Besir Atalay conceded that all nine were Turkish citizens.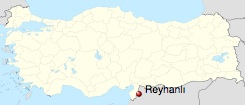 Little is known about the nine who were captured, though officials claimed one was the "mastermind" behind the incident, and they were described as belonging to an unnamed "old Marxist terrorist organization."
The haste with which officials tried to pin the incident on Syria was seen as bellicosity by some, but may also have been an attempt to avoid having the attack harm ongoing peace talks with the PKK by deflecting any accusations that they might've had something to do with it.
Still, the lack of any Syrians arrested is telling, and makes the violent attacks against ethnic Syrians even more troubling. Though officials seem to want to wrap this case up as quickly as possible, the lack of details from official sources about who the detainees are, what this supposed group they were members of is, and how they are linked to Syria will leave a lot of doubts in many people's minds.
Last 5 posts by Jason Ditz