Senators Carl Levin (D – MI) and John McCain (R – AZ), two of the top members of the Senate Armed Services Committee have issued a public letter to President Obama today urging him to immediately attack Syria with an eye toward a regime change that would put the Islamist-led rebels in power.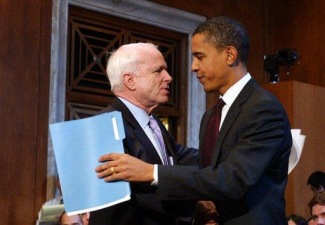 The letter says that the US could engage in "limited military options" more or less immediately, including air strikes against Syrian defensive systems and the conquest of a "safe zone" along the Syrian border.
The "safe zone" is being presented as a place for civilians to flee, but hawkish US officials has trumpeted it as a potential rebel base of operations as opposed to a non-combat zone for people trying to escape the civil war.
Sen. McCain has been calling for an attack on Syria, and indeed many other nations for years now, but Sen. Levin, the current chair of the Armed Services Committee, has only recently come on board with the war.
Both are citing unconfirmed claims of a chemical weapons strike in Syria as justification for an immediate US attack, even though officials concede that there almost certainly wasn't such a strike in the first place.