After a day of relatively routine pledges of unwavering support for Israel and talks that appeared to focus entirely on Iran and Syria, to the complete exclusion of the stalled peace process, President Obama is set to head to the occupied West Bank.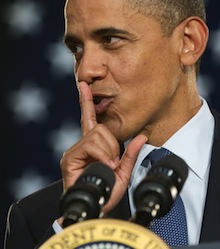 It's going to be an awkward visit, with Palestinians greeting the visit with a mix of apathy and annoyance, with a lot of people angry at the White House's decision to publicly shelve any discussion of the Palestinian issue, and others seeing his visit as totally irrelevant since he clearly isn't coming to set up peace talks.
To the extent there has been a reaction, it has been protests and signs declaring Obama an unwelcome visitor, a sentiment that is likely unchanged after what was called a day of "backslapping" in Israel.
Exactly what President Obama expects to accomplish in his visit to the West Bank is unclear, with Palestinian officials saying he was coming simply to "say goodbye," and underscore that his final term in office isn't going to include spending any time trying to broker peace talks with Israel.
Last 5 posts by Jason Ditz