The head of the NATO military alliance has urged member countries to stop cutting their defense budgets in response to tough economic times, claiming reductions in military spending will undermine security, reports The Associated Press.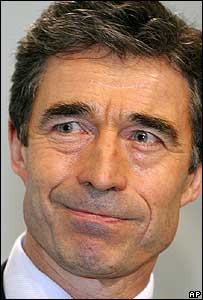 NATO Secretary-General Anders Fogh Rasmussen said the fact that several countries in the alliance that are making cuts is "a matter of concern."
"My appeal to governments is, firstly, hold the line, stop the cuts," Fogh Rasmussen said.
While the comments were aimed at all member countries, the NATO chief was almost certainly referring to the United States, with looming sequestration cuts of $500 billion over ten years set to be imposed.
Europe has benefitted greatly from US membership in NATO, as Washington disproportionately subsidizes their defense. The US contributes about a quarter of NATO's entire budget, for all of 28 member states.
"In reality, NATO could not pay its bills without the United States, much less conduct serious military operations," writes Doug Bandow, senior fellow at the Cato Institute. "American alliance policy has become a form of foreign aid."
While the alliance is a drain on US taxpayers, the power centers in Washington benefit from the geo-political heft NATO affords.
Last 5 posts by John Glaser