A suicide bomber attacked the gatehouse to the US Embassy in Ankara, Turkey today, killing a security guard and sending debris around the area.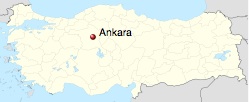 The suicide attacker was identified as Ecevit Sanli, a member of the Marxist Revolutionary People's Liberation Party-Front, which is listed by the US State Department as a foreign terrorist organization since 2005.
The group opposes NATO and US involvement in Turkish affairs and accuses the Turkey government of being controlled by international forces. They have launched suicide attacks against Turkish police and the Interior Ministry in the past.
The White House says that the attack was "an act of terror," while former US Ambassador James Jeffrey said that the group is not believed to have any ties to Islamists, but is rather affiliated with "guys with beards and coffee houses on the Rive Gauche in Paris."
Last 5 posts by Jason Ditz