The US State Department has reacted to yesterday's reports of the successful launching of a space monkey by Iran and its subsequent return to Earth by condemning the news, saying it might conceivably violate one of the many United Nations bans imposed on Iran.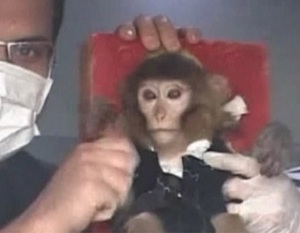 "If they have launched anything using ballistic missile technology, it's of serious concern," insisted State Dept. spokeswoman Victoria Nuland. The Israeli government has already dismissed the reports, saying space monkey is little more than a publicity stunt.
Iran says that the launch was aimed at testing their life support systems in a suborbital environment, and that space monkey was successfully returned home to Earth safely, dubbing it a first step toward putting humans into space.
Despite the State Department's reaction, experts say that space monkey poses no real military threat to the United States, with Harvard astrophysicist Dr. Johnathan McDowell saying the rocket was old technology and "useful only for doing astronaut stuff."
Last 5 posts by Jason Ditz