The harsh treatment of Pfc. Bradley Manning at the since-closer brig in Quantico has become virtually legendary at this point, with guards seizing his slippers and underpants and making him stand naked outside his cell at times. During one span he was only permitted underwear "occasionally," nominally on "suicide watch."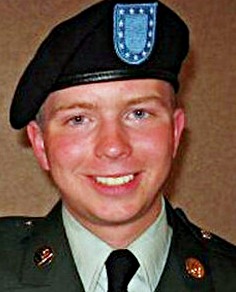 He should've just spoken up. At least that's the word from former brig commander Chief Warrant officer Denise Barnes, who says none of the various things done to Manning were done with the intent to "punish" him before the trial, and that they kept doing that sort of thing because he never really objected to it.
Of course Manning's legal team did speak up about his mistreatment, loudly and repeatedly, with the repeated complaints apparently falling on deaf ears, as the Marine Corps rarely responded, and usually left public defenses of his abuse up to politicians who insisted Manning probably had it coming to him.
Manning's defense is arguing that years of detention, much of it in extremely harsh conditions, should be factored into any possible sentence he faces for the alleged crimes, and say that realistically he's probably been through more than the allegations would have warranted in the first place.
Last 5 posts by Jason Ditz