Major opposition protests continued at the presidential palace in Cairo today, as Egyptian opposition leaders reiterated their opposition to any sort of negotiations with President Mohamed Morsi in the lead up to the referendum on a new constitution.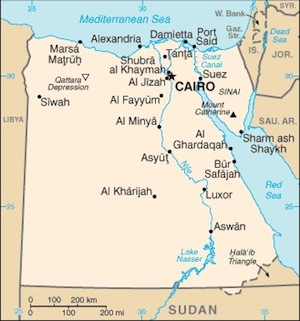 The crisis in Egypt has grown increasingly complex row between President Morsi's Freedom and Justice Party (FJP) and the various liberal opposition groups complaining at their relative lack of representation in the committee that penned the new draft constitution.
On the one hand, Morsi's edict granting himself nearly unlimited power until the constitution is in place has given ample reason to push the document through. And while the FJP dominated the committee that wrote it, the FJP also dominated the elections, so this is perhaps unsurprising.
With Morsi's position weakening and many of his aides leaving, there is eagerness on his side to come to some sort of agreement. Vice President Mahmoud Mekki even says a delay in the referendum is possible.
The difficulty however is in the sheer number of issues the opposition has with Morsi, and it is hard to imagine him offering enough simultaneous gestures to placate them. Barring that, however, the situation seems like it will continue to worsen.
Last 5 posts by Jason Ditz