Facing continued international criticism of the planned expansion of Israeli settlements into E-1, Prime Minister Benjamin Netanyahu sought to downplay the dispute by insisting Israel was never really going to give up on its occupation of the region anyhow.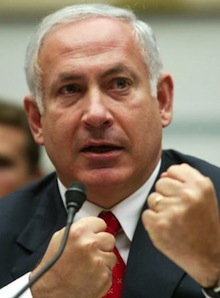 "Successive governments from Yitzhak Rabin on down to my predecessor, Mr. Olmert, have also said this would be incorporated (into Israel) in a final peace treaty." Netanyahu insisted in comments to reporters.
E-1 is indeed a relatively small area, but is important because it is the only area that doesn't have a settlement and which connects the southern third of the occupied West Bank to the rest of it. Palestinians were counting on this to keep an eventual Palestinian state contiguous, at least within the West Bank.
Netanyahu's defense that Israel never really planned to follow through on allowing a contiguous Palestinian state in the West Bank anyhow is unlikely to placate European critics of the move, let alone the Palestinians who say the move to expand into E-1 proves a lack of sincerity on Netanyahu's part.
Last 5 posts by Jason Ditz