In an interview with Russia Today, the full version of which will be broadcast Friday, Syrian President Bashar Assad has spurned the call by British leaders to accept an offer of exile, saying he has no intention of leaving.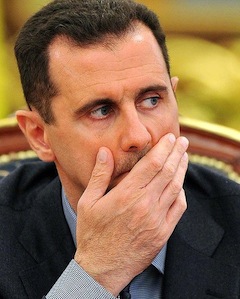 "I was not made by the West to go to the West or to any other country," Assad said, adding "I am Syrian. I was made in Syria. I have to live in Syria and die in Syria." British PM David Cameron said Assad would be given "safe passage" out of Syria if it meant an end to the civil war.
Assad also warned that Syria's status as a secular state was vital for regional stability, cautioning that if the Islamist factions in the rebellion took over "it will have a domino effect that will affect the world from the Atlantic to the Pacific."
He also sought to downplay the risk of NATO intervention in the war, saying that the "price of this invasion if it happened is going to be more than the whole world can afford." Though Russia and China have blocked any resolutions supporting war in the UN Security Council, NATO is said to be mulling deployments of Patriot missiles along the border to impose a de facto no-fly zone.
Last 5 posts by Jason Ditz