It has been repeatedly discussed over the past few weeks how important the city of Maaret al-Numaan, currently rebel-held but constantly contested, is to rebel goals. On the highway between Aleppo and Damascus, it effectively cuts Syria's industrial capital off from reinforcements.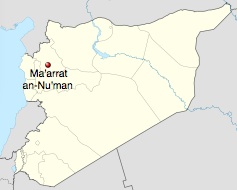 But as the fighting over the city goes on, the rebels holding it are increasingly desperate for reinforcements and supplies, and the rebel's leadership, or lack thereof, is becoming strained in its struggle to provide such supplies.
"At first we were successful, but then some of the groups left," noted one rebel. As they hope for reinforcements, the various rebel leadership groups that see the city as crucial still don't seem to be able to deploy any additional fighters.
Of the rebel factions still in the city, some are considering withdrawal, as it seems impossible for them to continue fighting with dwindling ammunition supplies, and no matter how important the city is, it doesn't look like it can be occupied indefinitely without support from fighters elsewhere.
Last 5 posts by Jason Ditz