Reports from the scene say that the Syrian military has abandoned its last base on the outskirts of the northern town of Saraqeb, the site at which yesterday's video of rebel executions of captured soldiers were shot.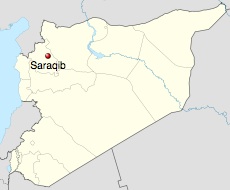 Saraqeb is located near Maarat al-Numaan, another rebel-held town, in the Idlib Province. It adds to rebel control of the area in northern Syria near the key city of Aleppo, which remains the central battleground of the war.
The rebels have been pushing into the Idlib Province harshly since the collapse of the weekend ceasefire, and appear to have caught the remaining troops in the area unprepared, forcing the military to rely increasingly on air strikes.
Saraqeb is particularly valuable because it lies on both the Aleppo-Damascus highway and the Aleppo-Latakia highway, making government reinforcement of the nation's largest city more difficult.
Last 5 posts by Jason Ditz