A US drone attacked a farmhouse in the southern Yemeni province of Abyan today, killing nine people who have been referred to as "suspects" including a man identified as Nader al-Shaddadi, referred to as a "local leader."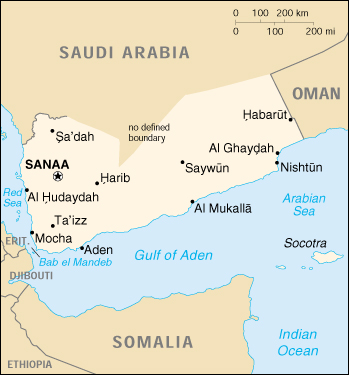 Shaddadi's name has come up in several past reports of clashes in Abyan, almost always listed among the people "presumed killed" in battles or artillery strikes, and Yemeni officials today referred to him as the leader of al-Qaeda's Jaar faction.
Yemeni troops have been attacking Jaar off and on for months, targeting groups that they believe to be involved with al-Qaeda in the Arabian Peninsula (AQAP), but never decisively ousting them from the city.
Today's attack is just the latest in a string of US attacks against Abyan Province, where US ground troops have been acting as "advisers" for a Yemeni military offensive. The US largely does not comment on the drone strikes, but will occasionally brag about one if they believe it has killed someone they have heard of before.