Apparently hoping to tamp down anti-US sentiment in Pakistan at least a little bit, the State Department has bought $70,000 worth of airtime to run Urdu-language advertisements distancing themselves from the YouTube trailer for the movie Innocence of Muslims.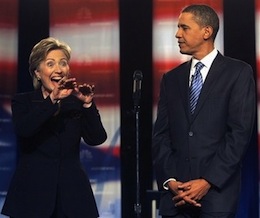 "Let me state very clearly, the United States has absolutely nothing to do with this video. We absolutely reject its contents," Secretary of State Hillary Clinton says in the video, which also features spots of Obama saying that the US respects all faiths.
The trailer for the unseen movie sparked protests across the Middle East and attacks on US embassies in some countries. Pakistan has seen major protests, but has banned YouTube in response, trying to keep the trailer from being seen.
The US has "questioned" people involved in the production of the trailer, and has pressed YouTube to remove it from their website, though Google, YouTube's owner, says it doesn't violate the site's content rules and will remain.