Syrian rebel forces are attacking the border town of Harem, along the Turkish frontier, fighting with regime forces who have taken up positions inside the city castle and fighting with large pro-government militias from the town.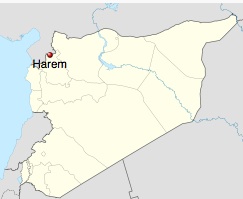 Rebels from the "al-Haq Brigade" claim to have captured 6 of the 7 roads leading into the town, and bragged of killing the leader of one of the local militias. They also claimed to have burned dozens of homes belonging to militia members.
The rebels said the attacks were retaliation for attacks by the militias on their own homes, and reported heavy casualties among the pro-government fighters, while being entirely mum on their own losses.
Located in the mountainous Idlib Province, Harem is a strategically valuable both for its position inside the province and its proximity to the Turkish border. Turkey has been openly backing the rebels, and they would undoubtedly love to have control of a city on the border through which to ferry weapons and fighters.
Last 5 posts by Jason Ditz