The US military is building a massive new "Pentagon" style command center for Afghanistan's military, with a $92 million budget aimed at creating the ambitiously large building in the capital of Kabul.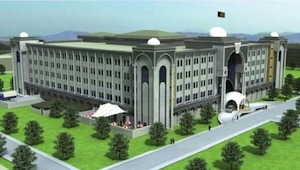 Following in a long trend of embarrassing US plans, the building is already coming under fire, as Afghanistan's Defense Minister has complained that the design is all wrong, and has pushed for changes to layout. The US military rejected the calls.
"We could do them, but we're not going to do them," noted NATO's engineering director Col. Andrew Backus, saying that the goal is to hurry up and finish the building, and then let the Afghans do what they want after its already built.
Past US projects in both Afghanistan and Iraq have often fallen into disuse after completion, designed in a way that made the military happy but were completely unsuited to their intended use.
Last 5 posts by Jason Ditz