Yemeni soldiers aided by American troops continued their offensive against militant strongholds in the country's southern towns throughout the weekend and into Monday, killing hundreds, as U.S. bombs continue to fall from drones.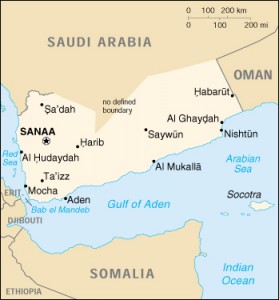 Yemeni officials told of continued fighting between soldiers and alleged al-Qaeda militants on the eastern edge of Zinjibar, as the casualty count increased. Yemeni officials reported the dead almost exclusively as al-Qaeda militants.
On Monday, the military offensive as well as air raids, including by U.S. drones, killed at least 18 people, only one of which officials said was a civilian.
One such U.S. drone strike on Monday reportedly aimed at the recently-assassinated U.S. citizen Anwar al-Awlaki's brother in law, Qaid al-Dahab. There was no word from Washington if this was the true target, but up to five people, allegedly militants, were killed in the strike. The fate of al-Dahab has not been confirmed.
Clashes between militants and government forces have escalated in recent weeks, following the Obama administration's announcement that U.S. Special Operations forces had been sent inside the embattled Gulf state.
The Obama administration has also stepped up its drone war in Yemen with the support of the Hadi government, who is reliably taking orders from Washington just as the former dictator was.
President Obama recently approved the CIA's "signature strikes," which includes the authority to bomb and kill individuals they can't identify. Up to 12 civilians, for example, were killed by a U.S. drone on May 15, in a follow-up strike aimed at people who had gathered to the site of a previous drone strike which targeted alleged al-Qaeda militants.
The bloodshed caused by the Obama administration's offensives in Yemen is probably detrimental to U.S. security. Jeremy Scahill, reporting for Nation, exposed in February after visiting Yemen how U.S. airstrikes that kill civilians and those ill-defined as militants – along with support for the brutal Yemeni government  – foments anti-Americanism and fuels international terrorism.
Charles Schmitz, a Yemen expert at Towson University in Maryland, told the Los Angeles Times, "The more the U.S. applies its current policy, the stronger Al Qaeda seems to get."
Last 5 posts by John Glaser