The country's presidential election is just three weeks away, but across Egypt there is growing discontent at the military junta's heavy-handed management of the process, and a sense that the junta will never allow a result that is not in its favor.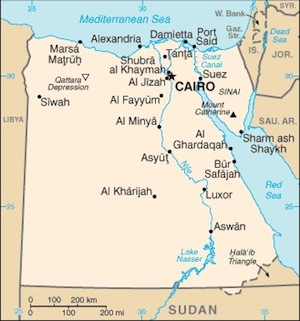 This prompted thousands of Egyptians to take to the streets yet again today, with the biggest rallies reported in Alexandria and the capital city of Cairo. In Cairo, the military went after protesters, sparking bloody clashes that left two dead and nearly 300 wounded.
Since then, the military has imposed a full curfew in several parts of the city. The state news agency issued a statement from the commander defending the attacks, saying that the protesters had "sharp weapons" and "believe if they kill a soldier they will go to heaven."
Egypt's junta took power early in 2011, after the ouster of dictator Hosni Mubarak. A parliamentary election was held in November, but the junta was unhappy that Islamist parties won overwhelmingly, and has not allowed the parliament any real power. They have banned all Islamist candidates from the presidential vote, and former Arab League chief Amr Moussa is the presumptive front-runner, as one of the few recognizable candidates not banned from running.
Last 5 posts by Jason Ditz