Unidentified men armed with guns and batons and suspected of being hired by the military rulers attacked peaceful protesters in Egypt on Wednesday, killing 11 and wounding several more.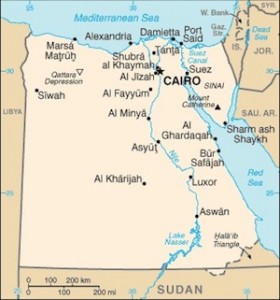 The protesters were demonstrating in Cairo against the ongoing military rule in post-revolution Egypt.
Secular and religious leaders accused the armed attackers as having been privately hired by the military rulers and warned the generals not to use it as a pretext to delay a return to civilian rule. Elections and a full political transition is scheduled for July.
The attacks, which began at dawn, didn't let up for hours and protesters began fighting back by throwing rocks and petrol bombs. Egyptian security forces mysteriously stayed out of the clashes until late afternoon, when they finally put the fighting to an end.
"SCAF and the government unable to protect civilians or in cahoots with thugs. Egypt going down the drain," tweeted Mohamed ElBaradei, a Nobel Prize-winning former U.N. official.
The military rulers last month barred ten presidential candidates from the election, prompting skepticism that they were prepared to give up their grip on power come July. The U.S. is still sending billions of dollars in aid to Egypt and continues to arm the military rulers, even as they have brutalized peaceful protesters and inhibited a swift return to civilian rule.
Last 5 posts by John Glaser