Israeli Prime Minister Benjamin Netanyahu ended this week in much the same way he began it, loudly condemning last week's P5+1 talks with Iran and lashing out at the idea of a second round of negotiations next month in Baghdad.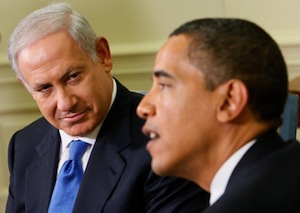 Netanyahu's position isn't entirely unexpected, as in the lead up to the talks all indications were that they were designed to fail, and US officials were openly talking about using the impending failure as an excuse for more UN action against Iran. When the talks didn't fail, it ruined a lot of plans.
By the end of the week, things have gotten uglier and uglier, with Israeli officials not only railing against negotiation on general principle, but accusing the Obama Administration of "dragging out" the talks until after the November election.
Obama's former National Security Adviser, General James Jones, insists Obama has "nothing to apologize for," however, and that the Israelis have been offered plenty of security assurances by the administration.
Last 5 posts by Jason Ditz