Iraqi Prime Minister Nouri al-Maliki on Friday called Turkey a "hostile state" and accused Turkish Prime Minister Tayyip Erdogan of sectarianism, in the latest in a series of rancorous exchanges between the neighbors.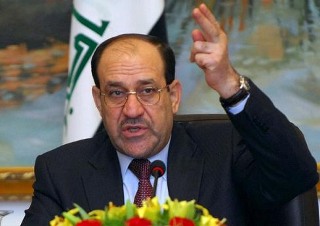 Maliki was responding to comments made by Turkish Prime Minister Tayyip Erdogan on Thursday in which Erdogan said Maliki's "self-centered ways … are seriously disturbing Shi'ite groups, Barzani and Iraqi groups."
"The recent announcements by Mr. Erdogan," Maliki responded in a statement, "represent another return to flagrant interference in Iraqi internal affairs," clearly trying to play politics on the emotional fears of his domestic audience.
"His announcements have a sectarian dimension," Maliki added after accusing Turkey of trying to establish "hegemony" in the region. "To insist on continuing these internal and regional policies will harm Turkish interests and make it a hostile state for all."
Regardless of his intentions, Erdogan was merely stating facts in his comments about Maliki, which were made after a meeting in Istanbul with Masoud Barzani, president of Iraq's semi-autonomous Kurdish region.
The Iraqi strongman has been driving a sectarian quest for power in Baghdad, arresting and torturing his political opponents and trying to systematically marginalize Sunnis and Kurds as he is widely accused of consolidating a brutal dictatorship. To say Erdogan is being sectarian is absurdly hypocritical.
Last 5 posts by John Glaser