A suicide car bombing in the Nigerian city of Kaduna today killed at least 38 people and wounded a number of others. The blast appears to have been an abortive Easter attack, as the car was detonated on a busy road, but near two major churches.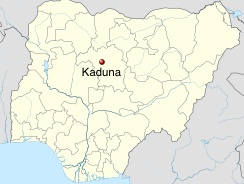 One of those churches was the likely target, officials say, but barriers had been set up and added security deployed in anticipation of an attack by a militant faction like Boko Haram, particularly after a Christmas Day bombing killed 44 people.
The car that attacked today was being approached by security after having been turned away at one of the roadblocks near the churches, and detonated shortly thereafter. No one has yet claimed responsibility for the attack, but it is assumed to be another Boko Haram strike.
The choice of a location, Kaduna, appears to have been designed to do maximum damage to the already fragile relation between Nigeria's Christian and Muslim populations. The site of several major historical religious clashes, Kaduna is seen as a dividing line between the Christian and Muslim dominated halves of the country.
Last 5 posts by Jason Ditz