Egyptian authorities sent hundreds of military forces and considerable reinforcements to the northern Sinai on Saturday, in an apparent attempt to enforce security on the peninsula.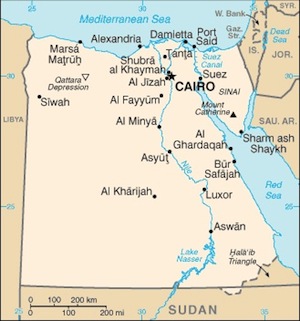 Rockets were fired into the Israeli city of Eilat from the Sinai on Thursday, although Egypt initially denied the rocket was fired from the Sinai. This prompted Israel to send a resolute "and even threatening" message to the Egyptian Military Council regarding the council's responsibility for security in the Sinai, warning that a failure to secure the peninsula would result in an Israeli strike.
Egyptian security officials said earlier in the month that militants attacked a gas pipeline in the Sinai that transports fuel to neighboring Israel and Jordan. That pipeline has been attacked 12 times since the ouster of former dictator Hosni Mubarak.
Salach Al Masri, commander of the security forces in northern Sinai claimed roughly 150 forces were sent in order to reinforce the security presence in northern Sinai and put a stop to the rocket fire and secure the pipeline.
The crackdown surely was the result of pressure from the U.S. and Israel, as Washington has kept up military ties with the ruling junta and even met with the Muslim Brotherhood, who has won significant majorities in parliament.
Last 5 posts by John Glaser