A rocket fired into a southern Israeli resort city early Thursday came from Egypt's Sinai desert, according to Israeli authorities.Prime Minister Benjamin Netanyahu said the Sinai was becoming a "terror zone."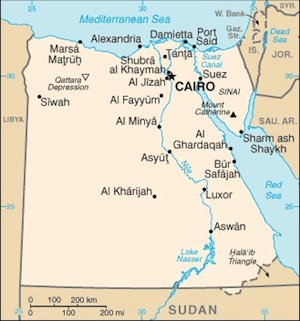 No injuries were reported from the attack and no claim of responsibility was forthcoming, nor were there any trace of the perpetrators. Egyptian security forces and military aircraft were searching the Sinai for militants believed to be behind the launch.
When asked if the rocket was launched from the Sinai, Eilat police chief Ron Gertner said "based on our working estimates and the range, yes." The news prompted Israeli Prime Minister Benjamin Netanyahu to warn, "We are seeing now with Eilat that the Sinai Peninsula is turning into a terror zone."
The U.S. has kept up military support for the ruling junta in Egypt and has even been meeting with the Muslim Brotherhood, which has won huge electoral victories. But the nature of Egypt's policies towards Israel have not been made clear yet. In fact, the Muslim Brotherhood have even floated ideas of putting the 1979 Egypt-Israel Peace Treaty to a vote.
In the past, Israel might have responded much more harshly to such news. When rockets come over the border from Gaza, Israel typically launches airstrikes which are all too often indiscriminate.
But Tel Aviv and Washington no longer have the assured cooperation of an obedient puppet regime in Egypt, as they did with ousted dictator Hosni Mubarak. "We will fight terror, of course, but we don't intend to enter Egyptian territory. That's not an option," said an Israeli official, who spoke on condition of anonymity. "We can talk to (the Egyptians), but that's it."
Last 5 posts by John Glaser