A new statement issued today by President Obama insists that he has come to the conclusion that there is "enough non-Iranian oil" on the planet that the human race can do without Iran, and that more sanctions can be imposed.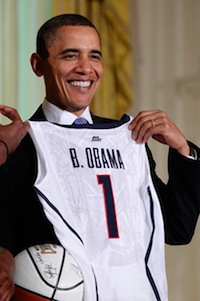 Obama's estimation of the human race's petroleum needs came as a result of a sanctions law he signed in December, and the statement promised that he would "closely monitor this situation" to decide if the market needed additional oil.
Obama's comments are adding more speculation to financial markets about the possibility of tapping the strategic petroleum reserve, something top White House adviser David Plouffe insisted earlier this week was an "option."
The prospect of tapping into its nearly 700 million barrel reserve has kept the price of oil from spiking on the latest threats, but how much could be committed and for how long remain unclear, and open-ended embargoes on Iran's oil are likely to last much longer than the reserve can cover.
Last 5 posts by Jason Ditz