Yemeni naval forces killed 29 militants, according to a military report, in a 24-hour artillery and rocket barrage against targets in and around the Abyan Province's capital city of Zinjibar.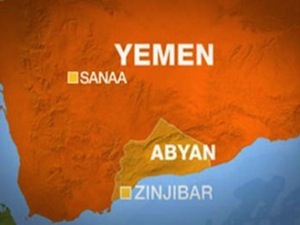 Zinjibar, and indeed most of the Abyan Province, have been under control of a group calling itself the Ansar al-Sharia, which is seen to be backed by the al-Qaeda in the Arabian Peninsula (AQAP) faction.
Yemen's military, with considerable US backing, has been trying to reclaim the province since June of last year, and while they have managed to kill large numbers of people in assorted strikes since then, the ground campaign has been a failure.
Today Yemen is reporting that they lost another top officer, Lt. Col Said bin Qahtan, in Abyan as well. Qahtan was reported kidnapped yesterday and his body was apparently found decapitated today in farmland outside the capital.
Last 5 posts by Jason Ditz