At least six people, all of them civilian tribesmen, were reported "critically injured" today after NATO forces fired artillery shells against a village in Datta Khel, North Waziristan Agency. Four of the wounded were children.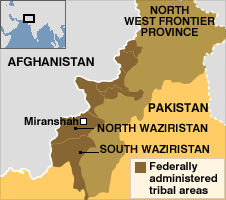 The attack sparked a panic among locals, as well as complaints that the Pakistani national government is unable to keep NATO from attacking the tribal areas. NATO has yet to comment on the strike.
It was the second major incident in North Waziristan in less than 24 hours, as Pakistan is reporting that US warplanes crossed the border into the agency on Wednesday evening, lingering for around 15 minutes before returning to Afghanistan.
The reason behind these incidents is unclear. They further complicate an already rocky relationship with Pakistan, which has been near a breaking point since US warplanes attacked a pair of Pakistani military bases in November, killing 24 soldiers in Mohmand Agency.
Last 5 posts by Jason Ditz