A bloody clash broke out today near the southeastern Turkish city of Şirnak. The provincial governor has said that Turkish soldiers found a "rebel hideout" in the mountains outside of the town.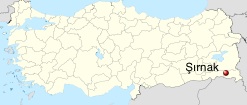 The ensuing clash took the lives of 15 rebels, along with two Turkish soldiers. The rebels were believed to have been with the Kurdistan Workers' Party (PKK), known to be active in the area.
The attack comes just one day ahead of the anniversary of the capture of former PKK leader Abdullah Öcalan, a day which usually spawns public protests by PKK supporters as well as attacks by rebels.
The Turkish government has arrested over 100 people in the past few days, in anticipation of public protests and possible strikes by Kurdish union leaders they claim are secretly in league with the PKK.
Last 5 posts by Jason Ditz