A new report by Fox News tonight is quoting a top Pakistani official as saying that the government is preparing to invite US military trainers back into the nation "as early as April or May." The troops were expelled last year as relations between the two nations collapsed.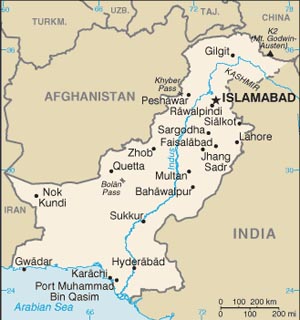 The official also said that the border crossings into Afghanistan, closed to NATO supplies since November, would likely be reopened around the same time, but that US drones would never be allowed to be deployed inside Pakistan.
Since the US has launched two drone strikes inside Pakistan already last week, the comment appears only to affirm that the US won't be allowed to return to Shamsi Airbase, from which some US drones were operating, and does not mean, despite official claims to the contrary, that Pakistan will actually block US drones from its airspace.
US-Pakistani relations continued to worsen throughout 2011, but hit a new low after November 26, when US warplanes attacked a pair of Pakistani military bases. Pakistani officials have recently indicated that negotiations are ongoing to define a new "normal" for relations with the US, and it seems today's comments further indicate this won't involve embracing CIA "on the ground" operations as they have in years past.
Last 5 posts by Jason Ditz