In one of those moves that officials like to trumpet but don't really like to provide concrete details about, the Obama Administration has announced the creation of the "Bureau of Counterterrorism," to be headed by Ambassador Daniel Benjamin.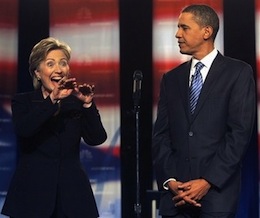 The bureau is new only in nominal terms, and has essentially been operating as the Office of the Coordinator for Counter-terrorism for awhile now, with Benjamin at the head. Moving from an office to a bureau is generally seen as an upgrade.
As part of the State Department the bureau's specific purview would seem to be diplomatic, but when pressed over exactly what the bureau will do Benjamin provided a long but largely content-free description.
"The establishment of the bureau in many ways is a confirmation or ratification of the things that we have been doing increasingly in recent years," Benjamin insisted, adding that the bureau would "fund other agencies of the US government to send their experts out to countries around the world."
Last 5 posts by Jason Ditz