The latest chilling impact on the freedom of information under the guise of terrorism came today, when, the National Institutes of Health announced that it is asking two major scientific journals to heavily censor certain articles over "terror" threats.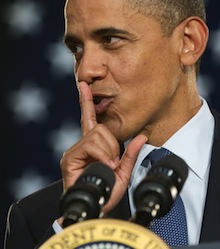 The articles were related to studies on the spread of H5N1 bird flu, and the research involved the possibility of the virus morphing to infect ferrets. Officials say ferrets have a similar response to the flu as humans do, and that the research could be used to create a "terrorist weapon."
The articles were submitted by two separate universities, Wisconsin and Erasmus Medical in Rotterdam and were to be published in the Nature and Science journals. The Department of Health and Human Services agreed on the need to censor the articles.
Though there is no legal basis for the government to censor scientific journals or the compel them to withhold matters of scientific fact from the public, the reports suggest that the journals are both open to the idea of redacting parts of the articles if the government creates some alternative system to ensure that "legitimate" government-approved scientists can get access to the full version of the articles.
Science editor Dr. Bruce Alberts says that they are eager to withhold information in that event, and that he doesn't consider the government telling them what they can and can't publish "censorship" but rather "the scientific community trying to step out front and be responsible."
Last 5 posts by Jason Ditz