In a high profile media event, New York Mayor Michael Bloomberg and other top local officials announced the arrest of Jose Pimentel, a Dominican Republic-born blogger who, in their narrative, "represents exactly the kind of threat the FBI director Robert Mueller has warned about."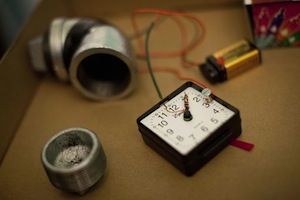 The piece of wire, clock, and 9 volt battery that officials say nearly tore the nation apart
Police say they have followed his "every move" since May 2009, when he expressed some sort of vague support for al-Qaeda on his blog, TrueIslam1.com. They just now got around to arresting him, saying he was close to completing a "really powerful" pipe bomb that was going to somehow simultaneously attack city officials, police, postal workers, military recruiters and returning soldiers from Iraq and Afghanistan.
Officials say Pimentel was likely to attack a mailbox first to see if his pipe bomb worked, then move on to other targets. He was said to have no links to any terrorist group and was simply a "lone wolf."
According to Mayor Bloomberg, Pimentel was really keen on Anwar Awlaki, and also for some reason Saddam Hussein. He reportedly once made a comment that he might change his name to "Osama Hussein."  He is said to have got the idea about the "pipebomb" from an article in Inspire Magazine.
Last 5 posts by Jason Ditz