Almost 40 people were killed in gun battles in Pakistan's tribal district of Khyber, which lies between Peshawar and Afghanistan and is the main route for US-NATO military supplies in Afghanistan.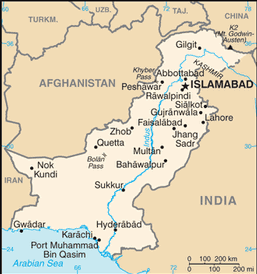 "At least 34 militants and three [Pakistani] soldiers were killed during an encounter," a statement from Pakistan's paramilitary Frontier Corps (FC) said. Journalists and rights groups are not allowed in the area and so the accuracy of the death toll, and identities of those killed, could not be independently confirmed.
Pakistani officials said militants from Lashkar-e-Islam were involved in the gun fight with Pakistani forces and released their statement shortly before US Secretary of State Hillary Clinton arrived in Pakistan for last ditch talks to pressure Islamabad to step up the fight against militants in the tribal border region with Afghanistan.
US and NATO forces have escalated attacks in recent days along the Afghanistan-Pakistan border in an effort to clamp down on record violence in Afghanistan. But the desperate attempt for security is unlikely to hold considering the insurgency is as strong as ever and the Afghan security forces are entirely dependent on daily US support.
Last 5 posts by John Glaser