A suicide attack today in the Chechen capital city of Grozny killed eight people, including seven police, and wounded at least 16 others. Officials report the initial attacker detonated his payload when the police rushed him.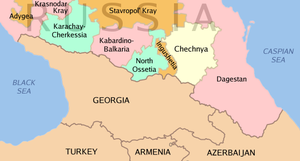 After this attack, a second bomber rushed in and detonated his own bomb in the same spot, not far from the parliament building. The attacks continue in and around Chechnya despite Russian government claims of "victory" over the insurgency.
Insurgent factions across Chechnya have been launching attacks against the Russian-backed ruling regime for decades now, and despite the claims of victory the region still has an active secessionist movement.
So far it isn't clear exactly which insurgent group was responsible for the attack, but ruler Ramzan Kadyrov was quick to pin the strike on a "zombified bandit." He insisted that the bandits are pure evil that must be eradicated.
Last 5 posts by Jason Ditz