The Libyan rebels offered a million-dollar bounty for the capture or murder of Muammar Gadhafi, as scattered pockets of Gadhafi loyalists continued to fight deep in the desert and in Gadhafi's tribal home town.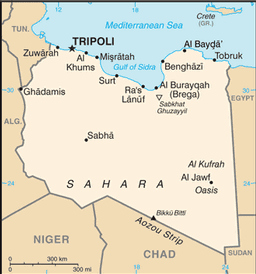 "Gadhafi's forces and his accomplices will not stop resisting until Gadhafi is caught or killed," said Mustafa Abdel Jalil, head of the rebels' National Council, who offered amnesty to any of his entourage who killed the missing strongman. Until then, he said, the war will continue and could unleash a "catastrophic event." In an audio tape broadcast by satellite overnight, Gadhafi urged Libya's tribes to "exterminate traitors, infidels and rats."
After sacking Gadhafi's headquarters at Bab al-Aziziya in Tripoli on Tuesday, Libyan rebels fought a fierce battle with Gadhafi's top military commander at his farm in Tripoli on Wednesday and later found Gadhafi's office director, Bashir Saleh, and his four children, at a family farm in Tripoli where he was in hiding.
Rebels also searched the Rixos Hotel — where journalists had been trapped by the regime for days — for Saadi Gadhafi, yet another son they claimed to have in custody but apparently did not.
Meanwhile, rebels continue to loot the Gadhafi family's lavish excesses in Tripoli as the US pushes to unfreeze billions in assets for the rebels to secure their rule.
While some Gadhafi supporters began to surrender, Abdel Salam Jalloud, a close ally who switched sides last week, said Gadhafi planned to drop out of sight and then launch a guerrilla war. "He believes he can gather his supporters and carry out attacks … He is delusional. He thinks he can return to power."
Last 5 posts by John Glaser