All indications are that President Obama will make a major announcement regarding the Afghan War drawdown on Wednesday, with media outlets putting the overall figure in the realm of 30,000 to 33,000.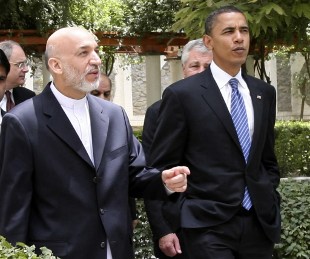 This sounds a lot bigger than it is however, as most of the drawdown is backloaded over the next 18 months. Rather, an announcement of 33,000 troops withdrawing from Afghanistan could mean only around 3,000 actually leaving in the near future.
Reports indicate that the administration is looking to about 10,000 troops leaving by the end of 2011, with the rest being scheduled, tentatively, to leave by the end of 2012. The move appears aimed at satisfying Congressmen looking for a significant drawdown while placating military officials warning anything above a trivial move would endanger the decade-long war.
This would largely be in keeping with the president's history of attempting to satisfy everyone, at least rhetorically, but with polls showing the American public dramatically in favor of a major withdrawal, the real question is if he can convince anyone that a 3-5% cut in overall troop levels is what they really want.
Last 5 posts by Jason Ditz