At least five US soldiers were killed today in the deadliest single incident against troops in Iraq in two years. The five were killed at "Camp Loyalty," a US military forward operating base in the city of Baghdad, not far from Sadr City.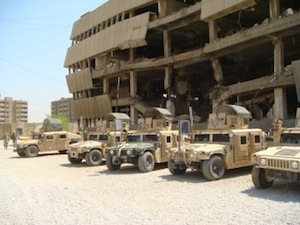 Iraqi security officials say that at least six missiles were fired against the base, and hit near the living quarters. The US confirmed the deaths but provided no additional information on the attack.
It is so far unclear who was responsible for the attacks, and while it is possibly retaliation from al-Qaeda in Iraq (AQI) for one of any number of recent incidents, the base's close proximity to the Shi'ite slums in Sadr City will likely also lay suspicion at supporters of cleric Moqtada al-Sadr, who late last month organized a march demanding US troops end their occupation of Iraq.
The presence of US troops in Iraq has been hugely controversial, and it is doubly so for those operating within the cities. Though the US made a big deal of "withdrawing from the cities" and of ending the "combat mission," operations within cities and combat both continue, and if US officials have their way will for the foreseeable future.
Last 5 posts by Jason Ditz